How The East Was Won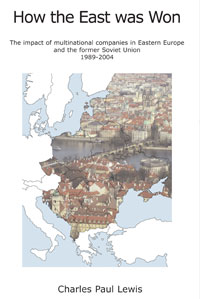 The impact of multinational companies in Eastern Europe and the former Soviet Union 1989-2004
by Charles Paul Lewis
Despite widespread criticism of multinational companies, they have made an unparalleled contribution to the development of Eastern Europe over the past two decades. They have brought opportunities to the young, improved working conditions, saved communities from destitution, rehabilitated corrupt banking systems and laid a modern telecommunications network. They have improved and promoted local products, not destroyed them. Their exports have driven economic growth; their presence has boosted civil society. The impact has not always been positive, but their power and dynamism, if effectively harnessed, can help defeat poverty elsewhere too.
Price £9.99 – Order at Amazon.com
Paul Lewis has spent most of the last 20 years travelling and working in Eastern Europe as a journalist, editor and business consultant. He was Bureau Chief for the Economist Intelligence Unit (EIU) in Vienna, covering political, economic and business developments in Eastern Europe and the former Soviet Union.
First published, Palgrave Macmillan, 2005; Second edition, Coptic, 2008
Praise for How The East Was Won
"…explains brilliantly how so much of post-communist Europe came right" – Robert Cottrell, East European Correspondent, The Economist
"a groundbreaking new book …an array of fresh and arresting perspectives that should cause everyone to rethink their prejudices about the entire globalization debate." – Washington Times
"A must-read for anyone who wants to understand the complex but critically important roles played by multinational companies in Europe's post-communist transition." – Ben Slay, Director, Europe and CIS, United Nations Development Programme
"A most useful and original analysis." – George C. Lodge, Harvard Business School
"An insightful new study on the former Communist bloc" – Strategy+Business
"…an important and almost poetic personal face to the story…clear and straight-forward, making it an easy read for anyone interested in the region, globalization or the plight of a people struggling after revolutionary change." – Personal Finance